The Recap of Kocktails with Khloé
Is this even true???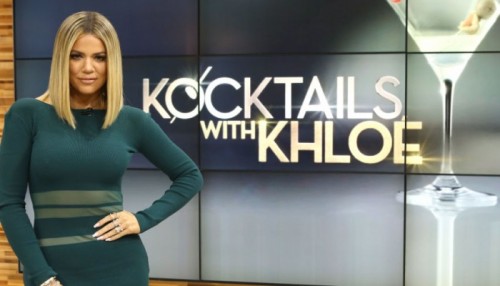 Our dearly beloved Khloé Kardashian opened her show in the kitchen this week on Kocktails with Khloé. Khloé was joined by actress and Depends spokeswoman, Lisa Rinna in addition to the ever present Sharone. Marlon Yates Jr of Straight Outta Compton's is also there and the group sips on the drink of the night which is a cocktail called The Darker the Berry.
Khloé starts things off with a game that's just for her called "Confronting the Rumor"  where she flashes various headlines about her claiming that she's rekindled that French Montana flame while her husband is laid up in Calabasas recovering from an overdose and she's newly freed from her relationship with James Harden. She admitted that she and James are in fact done but that doesn't mean she's getting frisky with Mr. Montana. Khloé thinks it's only fair to be friends and cordial with someone who's seen your vagina. Khloé ended her romance with James because he fought for a long-distance monogamous relationship but couldn't deliver one because this episode was filmed last month as has already been reported
Both Marlon and Lisa both support her decisions as Lisa recounts a terrible relationship she was in prior to her marriage with Harry Hamlin. Lisa added that she would cry every day in that relationship and thought that was normal behavior and was lucky to find Harry and genuine love. Khloé agrees with Lisa in finding the type of man that will set the bar for others which is what Khloe thinks of her love for and with Lamar despite his shortcomings.
Marlon who I've already shipped with Khloé says that he knows her love for Lamar is real because her eyes light up when she talks about him. After being relatively quiet during this whole conversation. He also opens up about his present love life as well as his past ones. He admitted he dated women at once when he was a teenager but is now in a long-term relationship with Shaunie O'Neal who is Shaquille O'Neal's ex-wife.
The conversation changed to Lisa and her work as an illness-shaming villain on the critically acclaimed reality drama Real Housewives of Beverly Hills after the long yet contenting talk about their love lives.
Lisa explains that Yolanda didn't take kindly to Lisa accusing her of having Munchausen Syndrome or faking Lyme disease after Khloé asks Lisa about her beef with Yolanda. And Khloé explains her own war with Amber Rose instead commenting and probing on the content of Lisa's Twitter war. She said that everything about them was water under the bridge but she was set off by Amber coming for her youngest sister Kylie.
But the most breaking news to come from this discussion was Khloé admitting under her breath that it was not that far out of line for Amber and others to be concerned that a then-underage Kylie was dating a grown man.