LEO, NOT THE ONLY LEGEND TO RECEIVE FIRST ACADEMY AWARD THIS YEAR
Ennio Morricone Became The Oldest Person Awarded An Oscar at 87 years old…
Meet, Maestro Ennio Morricone the only other person in the Dolby Theatre last Sunday, who some people might argue, probably deserves an Oscar much more than Leonardo DiCaprio does. This is because just like Leo, this living legend has been nominated for an Oscar 5 times in his illustrious 55 year career but has never won an Oscar (competitively) until this Sunday.
So ashamed was the Academy that a genius like Morricone hadn't won an Oscar yet, the Academy awarded the man an honorary Oscar for his lifetime contribution in 2007. As they should, Ennio Morricone has over 500 film scores and has been nominated 5 times for his work in Days of Heaven (1978), The Mission (1986), The Untouchables (1987), Bugsy (1991) and Malena (2000). His work for Hateful Eight is his sixth nomination and first competitive win.
The son of a trumpeter, Ennio Morricone graduated from the conservatoire (music school) with a dream to write classical music. But life got in the way and by life, we mean the lack of ways to earn money from making classical music at the time. A practical man, he chose to do film music. "Since the conservatoire that was my ambition. Then, of course, you have to live—and you can make money from film music. That's just how my life went." We're glad Morricone heeded the call of practicality, for without him, Cinema would be bereft of the other worldly wonder of his music.
Ennio Morricone's career took off as a result of his work with Sergio Leone's iconic western trilogy: A Fistful of Dollars, For a Few Dollars More and The Good, The Bad and The Ugly. Leone is a childhood friend and Morricone went on to collaborate with Leone in the latter's other projects like Once Upon A Time in the West. Morricone's work with westerns would revolutionize the way westerns would be scored forever.
The Hateful Eight is Ennio Morricone's first western in a long time and he was initially hesitant to take it. Morricone says he was afraid to work with another western because he was afraid he would be asked to rehash his work with Leone. In the end, Tarantino convinced Morricone to compose an original score for him. A great fan of Morricone's work with cinema, Tarantino has approached Ennio Morricone several times before. Morricone had previously declined to score Inglorious Basterds but agreed to provide a single to Django Unchained.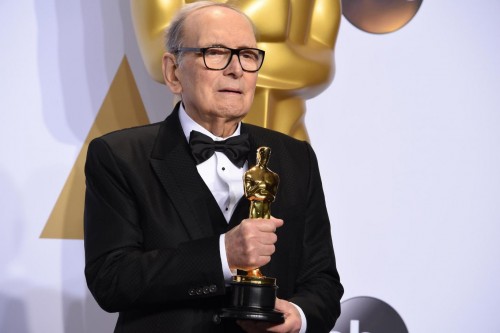 In his acceptance speech, Morricone expressed appreciation for Quentin Tarantino saying, "There isn't a great soundtrack without a great movie that inspires it. This is why I thank Quentin Tarantino for choosing me, as well as the producer Harvey Weinstein and the whole crew." The Oscar winner for Best Original Score also thanked his fellow nominees in his speech.
Hollywood isn't the only one celebrating Morricone's win. Italy, Morricone's homeland, celebrated as well with its head of state, Prime Minister Matteo Renzi tweeting, "Great Maestro, finally!" to congratulate Morricone for the well-deserved win.
At age 87, Ennio Morricone has become the oldest person to be awarded an Oscar.