Destiny's Child Reunite for Kelly Rowland's Birthday Party!
Beyonce is busy being one of the music industry's most talented performers. She's also very much consumed with being the undisputed Queen of R&B, and serving as an inspiration for millions of her fans. But that doesn't mean she's already forgotten where she came from.
In fact, she is still friends with the two other members of the gigantic trio that launched her career to the unbelievable height where it continues to stand today. Beyonce started out as a member of Destiny's Child, and she may be a solo act now, but it certainly doesn't mean that the group is no longer in our hearts. We're dead serious: who can say that Destiny's Child – or at least its legacy – will not live forever?
You can never truly kill Destiny's Child. It's exactly what would happen if the remaining members of the boy band One Direction never decided to come back from their hiatus: they would remain as icons in the history of pop music and pop culture in general.
So when news such as "Destiny's Child Reunites", even if it's just for a birthday party, we still get hyped! We still get excited to see Beyonce Knowles, Kelly Rowland and Michelle Williams stay in one room together, sipping tea or whatever, and just having a good time. It brings us back to the older days; the days of Destiny's Child.
Well, the good news is, what we just described above – that actually happened.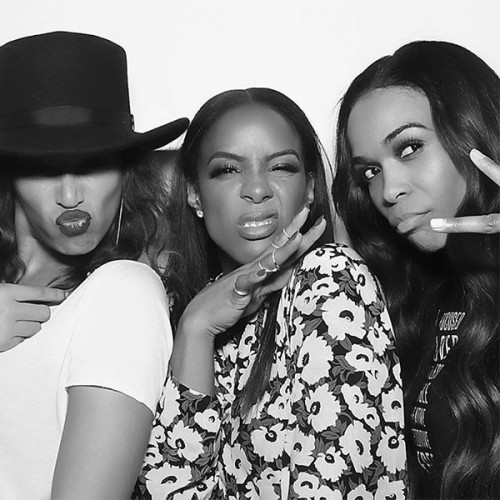 And it's no bittersweet reunion either. It was all sweetness and love from the three members of our beloved all-girl trio. Beyonce, even in her larger-than-life status, doesn't let her ego blow up to overwhelming proportions, and that's what we all love about her – and it's apparently what Kelly and Michelle love about her too.
So when Kelly Rowland's birthday rolled around, it was nothing but a happy reunion. Her birthday was almost two weeks ago, but she only posted their pics recently. A couple of famous faces showed up to her fabulous birthday celebration, held at Sunset Tower in Los Angeles, but the highlights of the event were Beyonce and Michelle Williams. Thanks to a photobooth, we now have plenty of proof that the singing trio is still as solid as ever. It wasn't a simple get-together for the girls either. According to multiple witnesses, Destiny's Child danced together during the birthday party. Jay-Z was also in attendance, and was among the people who saw the rare performance.
Kelly wrote "#HAPPYBIRTHDAYINDEED," on Instagram, sharing almost two dozen photos from the party.
An additional photo showed Tina Lawson, Beyonce's mom, among the partygoers. She was looking absolutely gorgeous, and as always, was rocking the most fashionable ensemble. The 62-year old fashion designer looked incredible in her outfit, which was reportedly gifted to her by a "special someone".
Of course she was referring to her son in law, Kelly Rowland's husband Tim, who gave her new shoes. "These are my new kicks my son in law Tim got me," she wrote on Instagram, "I know it's probably country to post a photo of shoes but these are so damn cool! The name is Buscemi. There's a lock on the back! Too cool for school!"
No matter what happened during that party, we can only assure one thing: We're still head-over-heels obsessed with Destiny's Child.