Demi Lovato Tweets Her Support for Kesha, Slams Taylor Swift?
Women's rights is something so essential to our society that you would expect it to be upheld in the most meaningful ways, especially since 50% of the citizens on this planet are of that gender. Unfortunately, that is not the case.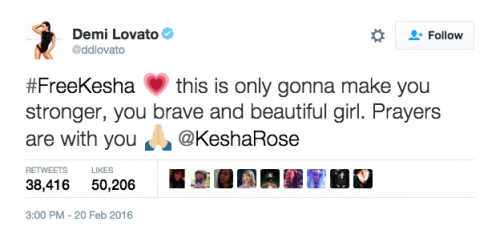 In fact, we have a prominent example in the form of Kesha, one of the finest pop artists of this generation who is supposedly active in the industry because she's talented, beautiful, intelligent, and has a lot of fans. However, thanks to a legal dispute, she cannot produce new music.
Recently, a judge decided to uphold her Sony contract with music producer, Dr. Luke, who she refuses to work with because of alleged cases of sexual, physical, and mental abuse. She wishes to be released from her contract, but now she can't – because of the court ruling. The pop singer broke down in tears over the decision, and her fans rose to her defense, trending #FreeKesha and #FreedomForKesha.
Superstars from the music industry also showed their support, tweeting messages of hope for the singer, who as of now cannot write, record, or produce any new songs. But it's not so much the music as the woman's right to be free from the man who has been abusing her for so long. Kesha claims that she has been experiencing this malicious behavior since she was 18.
Demi Lovato is one of the most recent celebrities to join the ranks of Kesha's supporters.
The "Cool for the Summer" singer tweeted her support for Kesha, saying: "#FreeKesha. This is only gonna make you stronger, you brave and beautiful girl. Prayers are with you @KeshaRose".
The next day, she posted a couple of tweets pertaining to the situation: "Frustrating to see women come forward with their past only to be shot down, not believed and disrespected for their bravery in taking action."
"Happens way too often. I'm ready for women to be taken just as seriously as men."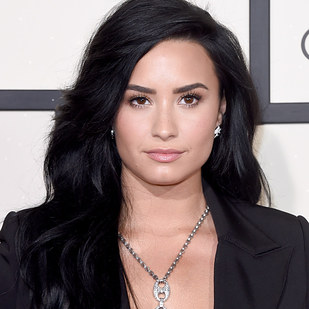 "Someone tell me why anyone would ever feel brave enough to come forward if they are most likely to be ignored or called a liar?"
But some people took these tweets as a dig at country-singer-turned-pop-icon Taylor Swift, who is a feminist. "I am also ready for self-proclaimed feminists to start speaking out or taking action for women's rights."
"Women empowerment is speaking up for other women even when it's something uncomfortable to speak up about," she added.
In the past, Swift has spoken out about solidarity among women, but it's interesting to note that she has remained silent about Kesha's issue with Sony and Dr. Luke.
"Women empowerment is using your voice to help the voiceless women be heard," Lovato further tweeted. "Women empowerment is taking action now, not when it's convenient."
"Women empowerment is leading other women to make actual changes in society."
She then ended her speech by saying she'd be okay with the impact of her tweets: "Women empowerment is tweeting at 2:30am knowing the consequences of these tweets and not giving a single f—k."
During this time, Taylor Swift has not tweeted or shared a message of support for Kesha's situation. She has since taken action by donating $250,000 to Kesha.