Lady Gaga Delivers Stunning David Bowie Tribute at the 2016 Grammys
If you haven't been able to catch up on all the latest showbiz news, you might not know this, but Lady Gaga is on fire these days.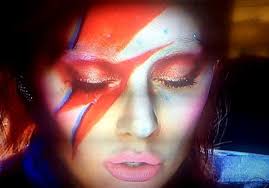 The pop superstar's 2016 is looking brighter and brighter as it progresses through February – as we predicted earlier – thanks to her scheduled appearances on widely televised events. In fact, she was the talk of the town just last week, thanks to her performance Super Bowl performance. I guess we can all collectively agree that she slayed her performance of the National Anthem, and she totally impressed millions of viewers that day.
It looks like there's no stopping Gaga soon, because her momentum is incredible, and it's only building up further thanks to her stunning tribute to David Bowie during the 2016 Grammy Awards.
The Bad Romance singer has always been vocal about her admiration of Bowie, who recently passed away after a long struggle with cancer. It was only fitting for the Grammys to pick Gaga as the artist to perform a tribute, because she reflects Bowie's flair for the dramatic. Known for his ever-changing onstage image, David Bowie found the perfect singer to honor him in Lady Gaga, who is also acclaimed for her shape-shifting style.
Lady Gaga took on the near-impossible challenge of paying homage to one of her idols, whom she claims inspired her and changed her life.
We know it's not an easy task, but Gaga was up for it, setting up a fun and vibrant performance that echoed the work of Bowie. She wore a Ziggy Stardust-inspired ensemble while rocking out to some of the singer's greatest hits, hitting nine songs within six minutes.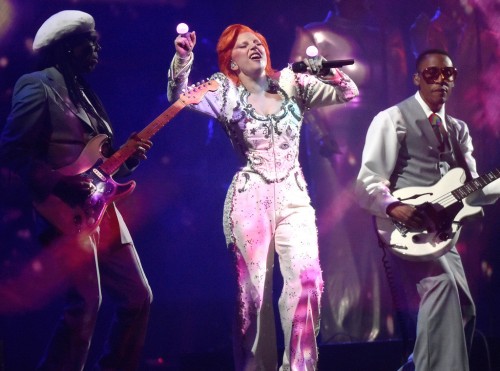 It's energy-fueled, adrenaline-packed, and surprisingly touching for a tribute performance, which only Gaga could've pulled off. Her medley included "Space Oddity," "Suffragette City," "Fashion," and "Let's Dance". She then finished it off with a rousing rendition of the ballad "Heroes", which gained a round of applause (which she admittedly lives for) as well as a standing ovation.
Earlier that day, Lady Gaga was busy flaunting her style for the paparazzi at the red carpet event, wherein she rocked an over-the-top space-themed, blue dress, paired with her red-orange hair and sparkling makeup.
For the tribute performance, she switched it up with a white embellished suit and white shoes.
Gaga collaborated with Intel in order to mix music and technology, as she performed live in front of millions of music fans all over the world. She wanted to showcase the innovative tech that Intel was capable of delivering, and she did so by allowing it to transform her into David Bowie onstage.
Intel projected special 3-D effects onto the singer's face as she sang, in order to create the illusion of transformation. They did so precisely, and it made the magic come to life. That's a considerably difficult thing to do, especially during a live performance, but Gaga's close collaboration with the company made it possible.
We can say that through the technology of Intel, and the talent of Lady Gaga, David Bowie's spirit truly lived on during the 2016 Grammys.