Tyra Banks Spends the 'Happiest Valentine's Day' of Her Life with Baby Boy York
We're all still very excited and happy for Tyra Banks' after hearing the news of her baby boy's birth. But the supermodel couldn't be even happier than all of us combined, especially since she's been waiting for this blessing for a very long time.
In fact, while most of were enjoying Valentine's Day with our romantic partners and/or friends, Tyra was busy spending the "happiest Valentine's Day of her life" with baby boy York Banks Asla.
We definitely agree that motherhood suits the fashion mogul, and if you don't agree with us, you should check out the latest photo she uploaded online.
The 42-year old posted on Instagran the very first photo of her first child, posing alongside her in a very artistic shot. Yes, of course the baby has no idea that he's posing, but he's lucky to have a supermodel for a mom, because they look extremely glamorous together. You can mistake the photo for an oil painting! It's modern art. The America's Next Top Model host looks gorgeous as she holds her son close to her chest while he snuggles in a blue blanket.
"This is the Happiest Valentine's Day of my life," Tyra wrote. "York, Daddy @erikasla and I send you so much love."
This scene is much more inspiring and heart-warming if you know how much she struggled to conceive a child. In fact, this miracle boy wouldn't have entered her life this soon if it weren't for the "angel of a woman" who served as the surrogate mother. Tyra has made public her fertility struggles, and how it was very hard for her to conceive a child.
Earlier, she had gotten emotional while revealing that she has been undergoing IVF treatments to try and get pregnant with boyfriend Erik Asla. "And for any women, it is none of your business what somebody is going through. Whether they want to have a child or don't ever want to have a child or may have a child on the way, it's none of your business, okay? Until somebody wants to make it your business."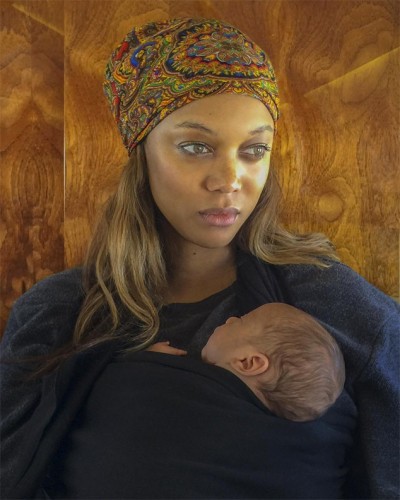 Co-host Chrissy Teigen had also talked on the show about how she and her husband John Legend were struggling to have a baby.
Tyra then kept quiet about the whole ordeal, only revealing the exciting news last January. She shared a photo of baby clothes on social media, saying: "The best present we worked and prayed so hard for is finally here."
Earlier, she also described the little angel as resembling Erik's face: "He's got my fingers and big eyes and his daddy Erik's mouth and chin."
She also added a bit of support to every other couple out there who are currently facing the same struggles she went through. "As we thank the angel of a woman that carried our miracle baby boy for us, we pray for everyone who struggles to reach this joyous milestone."
And apparently, it is always worth the wait, because the fashion icon is having the time of her life right now, looking fierce and fab even while carrying a baby boy.
Erik is very happy about it too. "Witnessing the dawn of life is possibly life's greatest gift," he said earlier. We can't wait for more pics of the happy family!