Zayn Malik Reveals He Never Really Wanted to Be in One Direction
Really, what is going on with Zayn Malik these days?
Since he left One Direction, he has been all over the place – briefly siding with producer Naughty Boy only to later deny their friendships' existence, having a distinctly unclear relationship with his former band mates, and then suddenly saying they are ignoring his messages. And now he recently cancelled his very first TV appearance since leaving the extremely famous band. What's going on here?
Well, as it turns out, we might just be seeing the real colors of Zayn Malik. He probably hasn't gotten all the details clear yet, but we're sure he's planning something. He wants a solo career – everybody knows that by now. And we're guessing that all of his actions right now are just him trying to set the proper path to the music career he wants, even if his first few steps are misunderstood by the public.
He makes it clear that he no longer wants to be a part of One Direction, despite the millions of fans who are trying to persuade him to come back. It turns out, he had his mind made up all along. The second he walked out the door, he knew he was free – and that there's no going back, ever.
This is the point he's been trying to put across ever since he left One Direction, but the die-hard Directioners aren't the kind of people who give up easily. So Zayn had to confess something shocking; something that will change the way you look at One Direction forever.
He never wanted to be in it.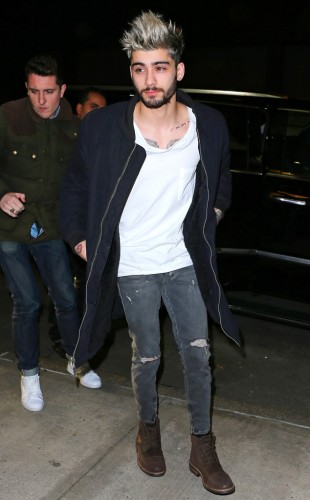 Yes, you read that right. Zayn Malik never really wanted to be in One Direction. It's this kind of haunting image that makes you watch One Direction music videos and rethink everything that is going on. Was Zayn ever happy filming those videos? Apparently, he was just going along with it because he didn't want to disappoint his fans. But now it's clear that he needs to think of himself as well.
In a teaser for Malik's first sit-down interview for Apple Music's Beats 1 with Zane Lowe, he talked about his decision to leave the band and delivered the shocking confession.
"I think I always wanted to go, from like the first year, really. I never really wanted to be there, like in the band," he admitted. "I just gave it a go because it was there at the time, and when I realized the direction we were going in with the music, I instantly realized it wasn't for me, because I realized I couldn't put any input in."
He continued, "I couldn't give my opinion on this or that because it didn't fit the grain of what we were as a band or what we represented. So that's when it became straight for me, that's when I had to be like I've got to start thinking about myself. So I was always just writing anyway, even when I was in the band. It wasn't something that I had to think about and process information. I just always knew."
The rest of the band new about this too. But the good news is, Zayn will be releasing his first solo single very soon, entitled "Pillow Talk." We'll still watch out for that, Zayn.